Political Activism or Street Theater?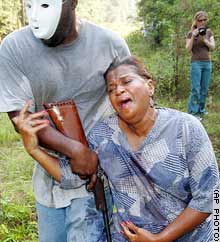 In hopes of drawing attention to their demands for a new investigation of a 1946 quadruple lynching in Georgia, African-American activists recently
reenacted
the killings while a crowd of some 200 looked on. Young black men stood in for the Klan attackers (note the white mask in the photo). While this certainly made for a good media event, I have to ask: Am I the only one who thinks this whole thing is a bit morbid? You don't see Jewish people reenacting the gassing of their relatives to publicize the hunt for Nazi war criminals.