PETA's Unsettling Truth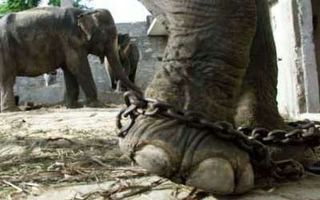 As regular readers of this blog have no doubt noticed, I'm not a big fan of PETA. Although their cause (improving the treatment of animals) is a laudable one, their disturbing fanaticism, questionable tactics, and links to terrorism make them a proper addition to this site's list of dangerous extremists. Having just said all of that, I have to give credit where it's due. PETA seems to be the only group in the U.S. with the balls to go undercover and capture animal abuse with hidden cameras, then turn the evidence over to law enforcement and post it for public viewing.
PETA has been engaged in a
long-running feud
with the circus industry over its treatment of animals. They've posted a new
secretly shot video
depicting the horrendous abuse elephants undergo during circus training. It makes for very disturbing viewing. Take a look for yourself and then see if you agree with me that the bloody climax seems to be in many ways totally predictable.